Literacy at Victoria Road Primary School
Literacy is the foundation upon which all learning is built. At Victoria Road our ultimate goal in literacy is to develop independent life‐long readers and writers who comprehend and communicate effectively. We achieve this through our consistent approach to teaching Literacy.
At Victoria Road we incorporate a variety of approaches to ensure your child is receiving the best possible teaching and learning practices in literacy. We have the strong belief that a successful Literacy program includes a balance of differentiated instructional methods and a range of strategies in Reading and Writing.
Our approach is as follows:
Reading
During the reading workshop students are taught to:
– Select 'Just Right Books'
– Understand what it means to be an independent reader
– Detect obstacles and confusions that interfere meaning
– Become aware of their thinking as they read
– Monitor their understanding and keep track of meaning
– Notice when they stray from thinking about the text
– Know when, why, and how to apply specific strategies to maintain and further understand
– Understand the importance of a "Balanced Reading Diet"
– Keep a Readers Notebook that tracks student understanding about texts they read and track progress across the year
Writing
VRPS follows a whole school approach to writing. Through explicit teaching of text structure and the 6+1 Writing Traits, students are equipped with the skills needed to become successful communicators. Our Writing sessions incorporate a range of approaches to writing instruction focussing on whole class, small group and individual needs. Students work independently to create a text related to the whole class focus. Teachers conduct conferences with specific students to support learning needs. At the end of a workshop teachers provide time to share and celebrate the students' work and achievements.
During the Writers Workshop students are taught to:
– Gather their ideas
– Plan/organise their thoughts
– Understand the purpose and audience for writing
– Edit their work for spelling, punctuation and grammar as well make improvements to make sure their work is vivid, precise and well structured
– Write specific text structures
Speaking and Listening:
Oral language is a key element in literacy development. Students will regularly engage in activities that improve their ability to communicate through explicit instructions on what successful listening and speaking looks like. Many speaking and listening activities are also integrated through the Reading, Writing, Spelling and Vocabulary sessions of the school day.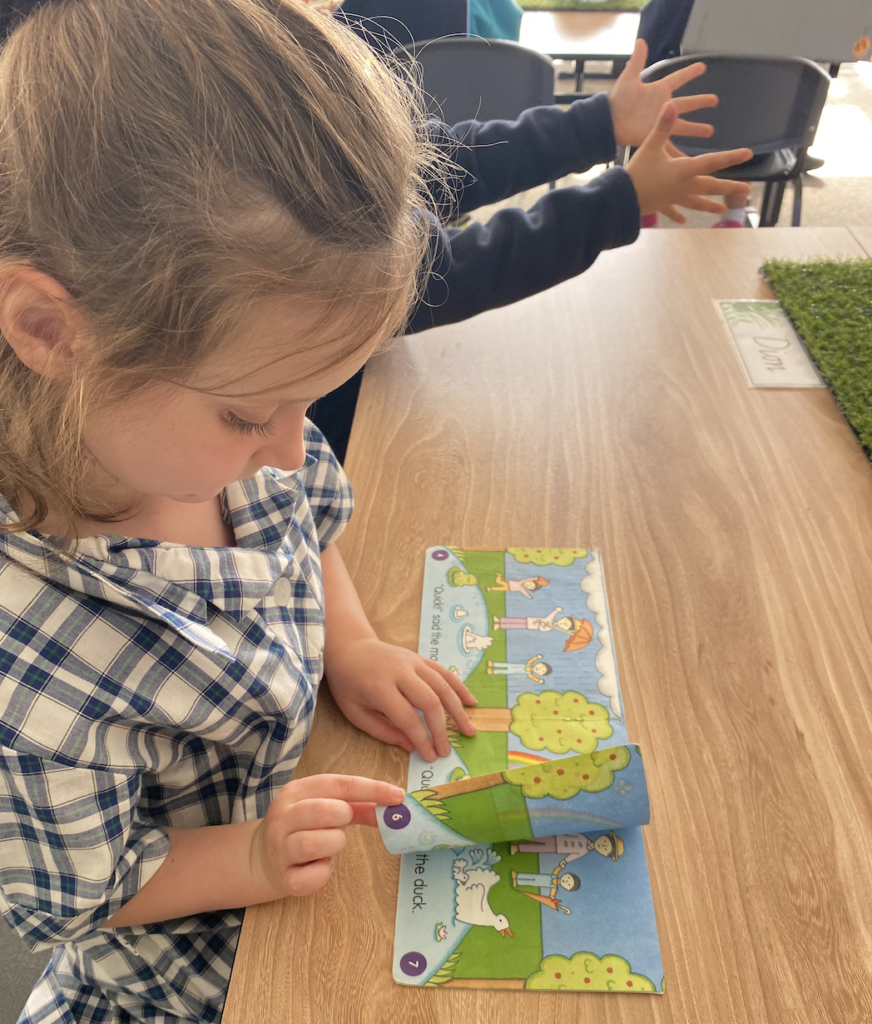 Spelling
We use a whole school explicit phonics approach to spelling which encompasses the guidelines set out by Department of Education Victoria. We use the Sonday Systems that are based on the Orton Gillingham Approach. This is an evidence based approach that scaffolds learning for all learners incorporating multi-sensory approaches and flexibility in instruction as well as techniques allowing for differentiation across classes to meet the individual learning needs of each student. The program ensures mastery of sounds before progressing to the next level and is repetitious and explicitly taught to enhance skills and understanding.
Literacy Intervention:
We also offer an extensive literacy intervention program using the Sonday 1 and Sonday 2 Intervention programs to support students that require further assistance or have identified learning needs, difficulties or disabilities.
They encompass the big 6 Literacy Pillars:
– Phonics
– Vocabulary
– Phonemic Awareness
– Comprehension
– Fluency
– Oral Language